Best Place to Visit this Mansoon Near Mumbai ?
"Sunshine is delicious, rain is refreshing, wind braces us up, snow is exhilarating; there is really no such thing as bad weather, only different kinds of good weather." "And when it rains on your parade, look up rather than down. Without the rain, there would be no rainbow." – Unknown Author
As the people in Mumbai rejoice over the rains after a long sweaty summer, it won't be long before they start cribbing over the waterlogging and traffic mess that the rains in Mumbai usually brings along with it. To escape from that, we have a list of places awesome places to visit near Mumbai in monsoon. They are just outside of Mumbai, which makes them perfect weekend getaways.
Waterfalls at Malshej Ghat (Source)
A hill station in the mighty Sahyadri ranges of Maharashtra , this place near Mumbai in monsoon is engulfed in green hills and innumerable waterfalls. The drive to Malshej Ghat through itself is calming with the picturesque view of the splendid valleys and placid lakes. This mountain pass is also home to various flora and fauna; flamingos are known to come here all the way from Europe during the monsoons! An excellent place to visit near Mumbai for outdoor activities like trekking, hiking, bird watching and there are some good resorts nearby to relax and rejuvenate as well.
Waterfall in Malshej Ghat:
Malshej Falls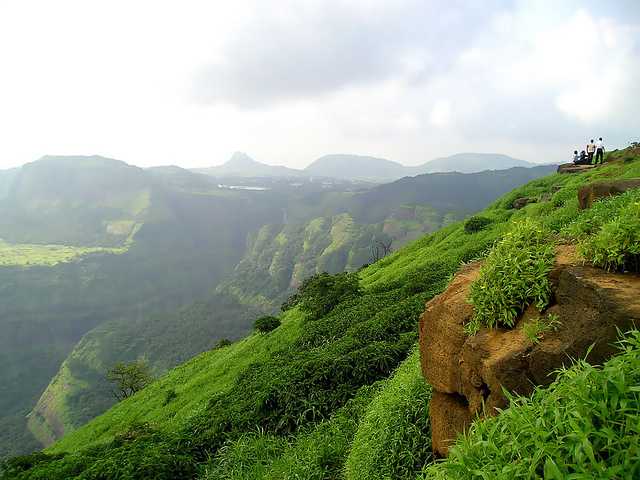 Lonavla (Source)
The twin hill stations of Lonavla and Khandala near Mumbai favourite hill station of mumbaikar close to the Deccan Plateau offers a combined package of land and water. Surrounded by lush greenery and little poodles of water and gushing streams a true gift of nature , this is an all in one place to visit near Mumbai this monsoon. The Bhushi Dam situated nearby has a beautiful waterfall to boast; bathe in the streams or have a picnic nearby. Little shacks of food offer some warm tasty dishes! Rajmachi View Point and a Celebrity Wax museum made on the lines of the London's Madame Tussaud's is a new attraction nearby.
Waterfalls in Lonavala and Khandala: 
Kune Falls, Tiger's Leap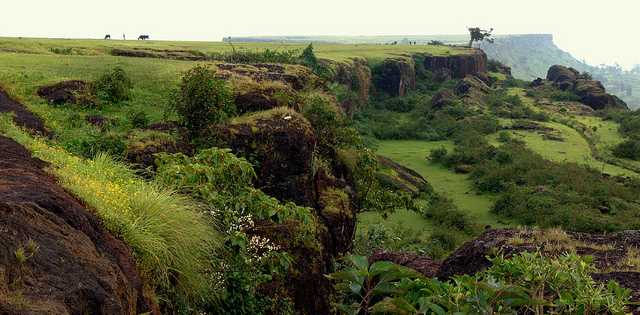 Panchgani (Source)
The most popular honeymoon hill station marathi's in the Sahyadri Ranges of Maharashtra, Mahabaleshwar offers a fantastic panoramic view of surrounding hills and valleys. Which is much more famous it's strawberries  Monsoons cover the area in thick vegetation and waterfalls and springs crop up. Mahabaleshwar receives some of the highest rainfalls in Maharashtra which makes the hilltops look dressed in rains. About 20 kms from Mahabaleshwar, there is another hill station called Panchgani. It receives comparatively less rainfall than Mahabaleshwar and has beautiful valleys and rock formations to boast. It has Asia's second largest mountain plateau called Table Land.A table land which is much more similar to Table mountain of south africa , Apart from this, Sydney Point, Devil's Kitchen and Parsi Point are some other attractions.
Waterfalls near Mahabaleshwar:
Lingmala Falls – on Pune-Mahabaleshwar highway, Chinaman's Falls, Vajrai Falls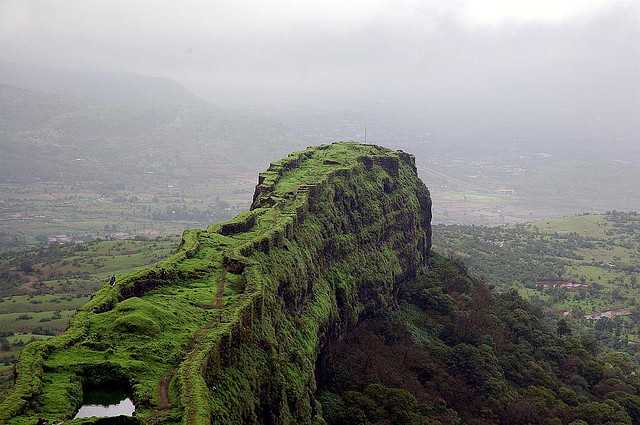 Lohagad Fort (Source)
One of the hill forts of Chatrapati Shivaji Maharaj, this fort near Pune ruins is a perfect blend of historic and adventure. The entrance of the fort is called the Wind Spot which leaves you literally swept off your feet. One of the best trekking option near Mumbai for a day, especially in monsoon, Lohagad Fort offers a splendid view from the top. From the top you can view the Tung and Tikona Hills, the Pavana Dam and the Duke's Nose. In monsoon the fort is covered in various shades of green making it sight to behold.It's Hardly 02 hr take of lohagadh fort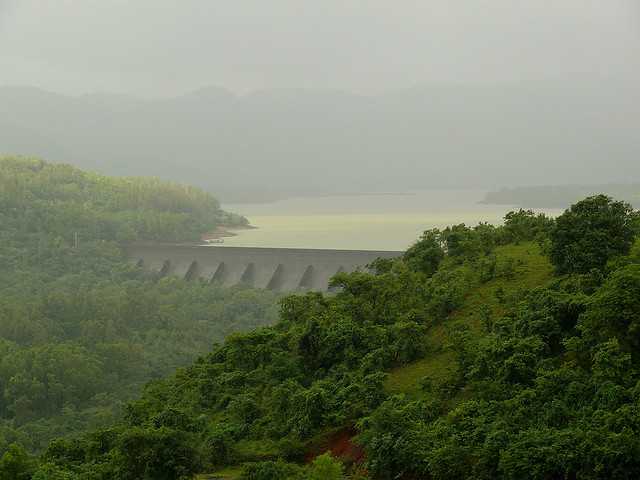 Mulshi Dam (Source)
A quick 3 hour drive from Mumbai, Mulshi Dam is your one day escape route from Mumbai's chaos. The Dam built on the Mula River is a major electricity generator for Maharashtra. In the peak monsoon season, the dam flows in full force and there is a deep fog in the region making it feel like literally walking in the clouds. A drive to Mulshi itself is invigorating with the area covered in forest lands and mist.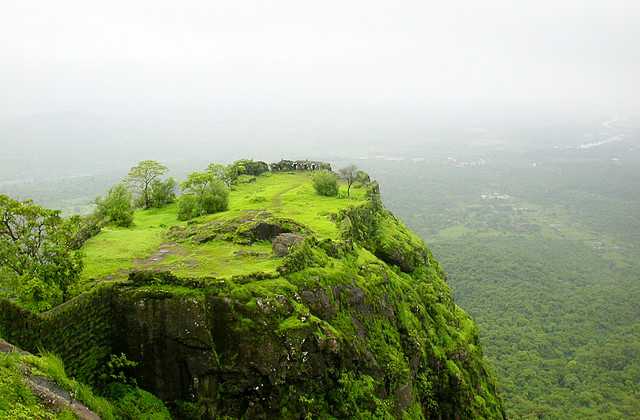 Karnala Fort (Source)
An envelope of green with gushing waterfalls, Karnala is one of the closest places near Mumbai situated just 80 kms away. Treks or drive through Karnala from Mumbai offers a majestic view of the misty Sahyadri Ranges in the monsoon. The waterfalls are refreshing and the Karnala Fort has much to explore. Karnala Bird Sanctuary is home to some of the most exotic birds. Monsoon sees a variety of migratory birds.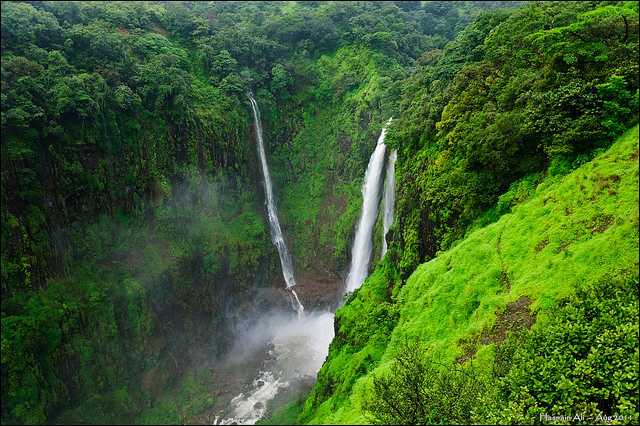 Thoseghar Waterfalls (Source)
Thoseghar Village in Satara is filled with waterfalls ranging from 20 metres to 500 metres in height. The Thoseghar Falls, one of the best waterfalls near Mumbai in monsoon are in their prime in the monsoon with more water gushing from the heights. A calm and serene surrounding with a quiet lake and the only noise filling the silence is from the waterfalls. An ideal place for picnic, a quick swim in the lake or for just watching the ebb and flow of water.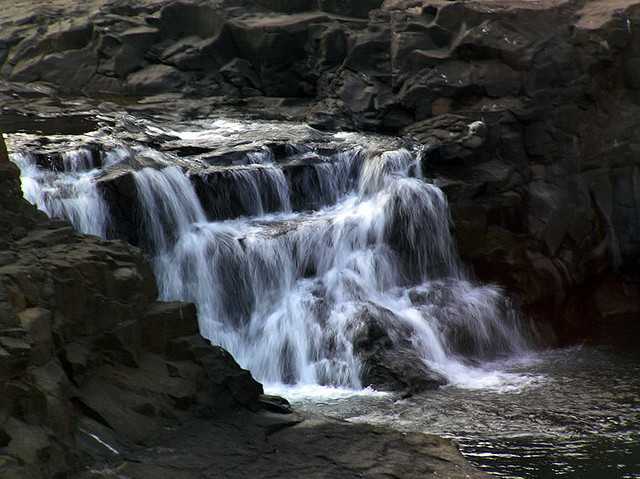 Randha Falls near Kalsubai (Source)
The highest peak in the Sahyadri Ranges (1646m) of Maharashtra, it doesn't get better than this. Filled with lush vegetation which also sees a lot of springs and streams during monsoon, Kalsubai Peak is a great monsoon getaway near Mumbai or Pune. It has a temple at the top and offers a magnificent view of the backwaters of Bhandardara. An ideal trekking place for adventure enthusiasts; one can also head to the Bhandardara Dam nearby which often overflows in the monsoon.It's like addiction to visit these places
Waterfalls Near Kalsubai Peak: 
Randha Falls – 10km from Bhandardhara Umbrella Falls – In Bhandardhara Chinaman's Falls
9.Bhandardara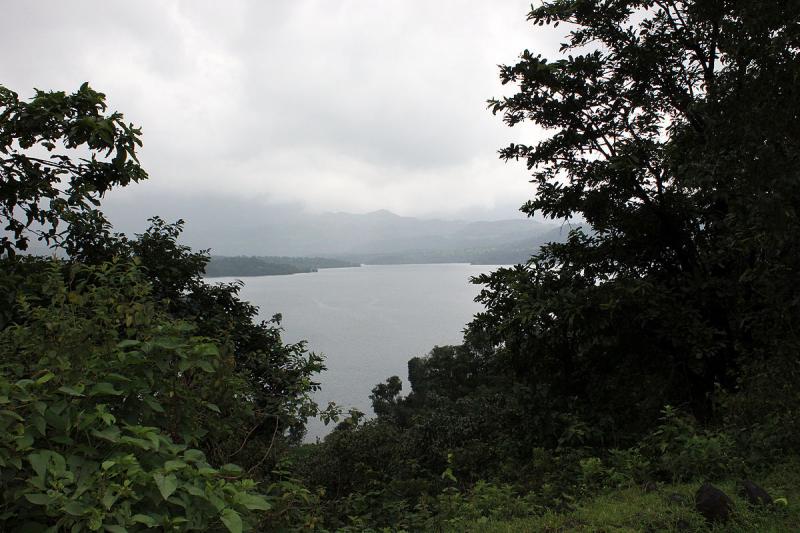 Arthur Lake (source)
Bhandardara is a peaceful holiday resort village nestled in the Sahyadri Hills in the Western Ghats. It is famed for its remote location, and also the fact that it is an important stop over point while going to Shirdi. It is located right next to the Pravara River from where one can get spectacular views of the natural beauty in the area. Arthur Lakeand Randha falls are the main attractions here. Lying amidst lush greenery, high hills and water, Bhandardara is the perfect monsoon getaway from the hustle and bustle of Mumbai and is also visited by tourists throughout the year.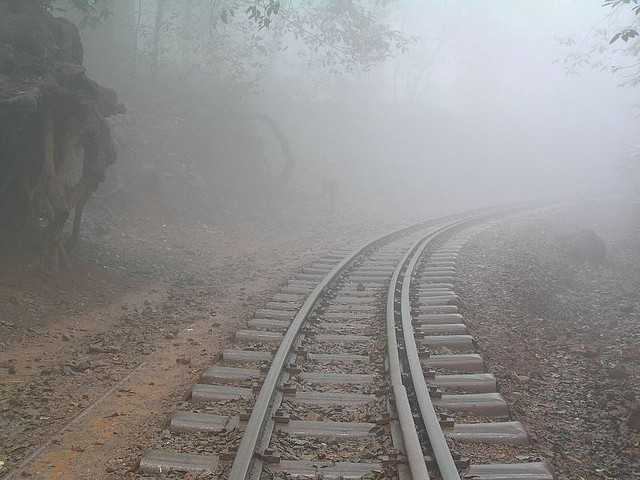 Matheran Rail Route (Source)
When you think of a weekend monsoon getaway, the first thing you think about is quiet and calm. Then what better than Matheran, which has rule of no vehicles allowed within the town!  Just the journey to Matheran is exciting, a train ride in a heritage railway and travel around the town on horseback or hand pulled rickshaws. The hills themselves have much to offer as the clouds practically descends over it in the monsoon and  with an adjoining valley it has over 30 lookout points, the beautiful Charlotte Lake and the ancient Pisarnath MahadevTemple.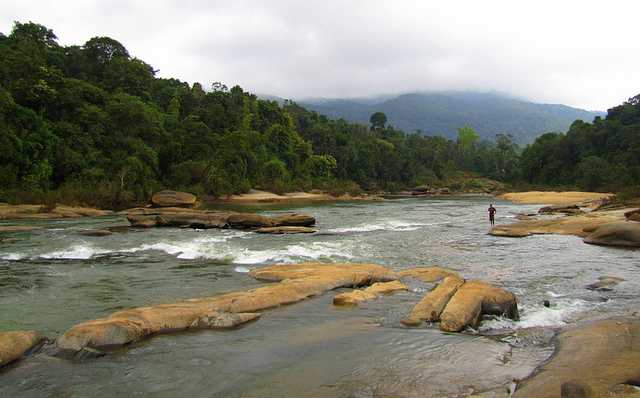 Amba River (Source)
Covered in thick forests in the lap of the magnificent Sahyadri ranges with the Amba River flowing through the woods; combined offer a tranquil and pleasant atmosphere for a quick monsoon getaway from Mumbai or Pune. The place is full of waterfalls in the rainy season where one can enjoy trekking through the falls and greenery. For the more adventure seekers, Durshet also offers adventurous activities like rock climbing, rappelling, river crossing, etc. Durshet is also filled with a wide variety of flora and fauna; you can hear the shrill of the birds chirping or see a butterfly at work!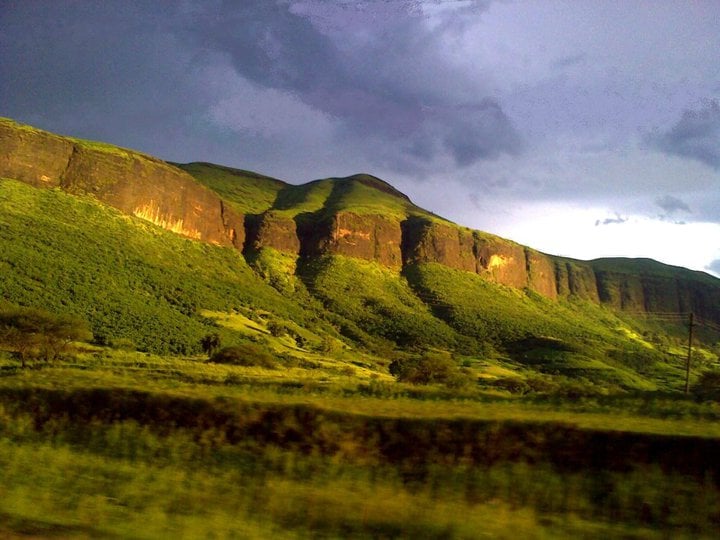 Tgatpuri Plateau (source)
Igatpuri is one of the best monsoon getaways away from the crazy city life of Mumbai. It is a small and charming hill station located in the Sahyadri Hills in the Western Ghats. Dense forests and a number of ancient temples characterize the landscape of Igatpuri. It is renowned for the Vipassana International Academy where one can learn the age old technique of meditation called Vipassana. During monsoon, this tiny place is transformed into another world altogether, especially with the greenery and cool atmosphere.
Waterfalls in Igatpuri:
Ashoka Falls, Lake Vaitarna Waterfalls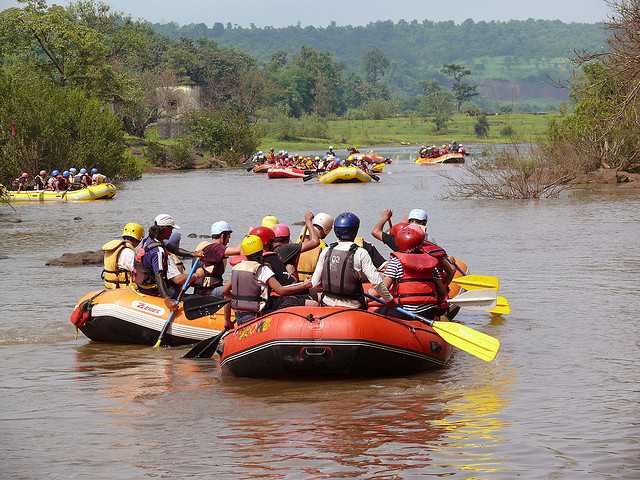 Kundalika River Rafting (Source)
Close to the Mumbai – Goa Highway, Kolad is a quaint little place quite close to Mumbai with serene lake surrounded by hillocks and bursting waterfalls. The Kundalika River flows through Kolad and is full to brim in the monsoons, flowing in much gusto. There are white water river rafting facilities at the river. Kolad comparatively sees less visitors which makes for a quiet getaway. One can enjoy a swim in the lake or trek about the hillocks near the waterfalls.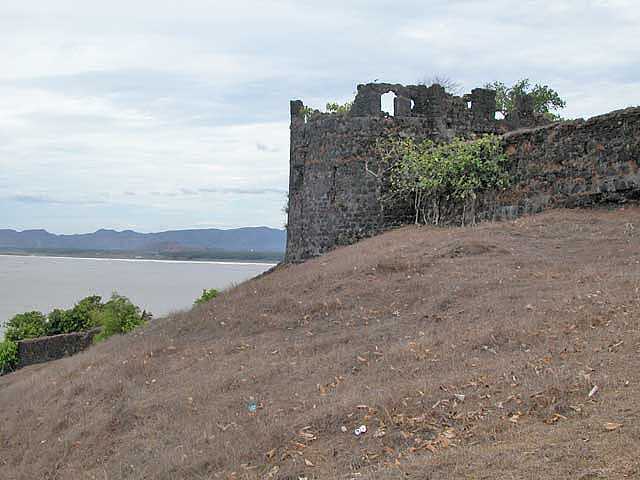 Korlai Fort (Source)
A drive to Alibaug is just as beautiful as the place itself. Alibaug has many beaches to boast and the Kolaba sea fort just around the corner. However, for monsoon give the beaches a skip and head instead to Korlai Fort – a half hour distance from Alibaug, it is a lesser known destination but a fantastic place to visit near Mumbai in monsoon. Sprawling fort ruins depicting Portuguese, Moghal and Maratha architecture this fort has changed a few hands of reigns. An easy trekking to the top offers a panoramic view of the sea and right down under you can enjoy a swim in what looks like the ruins of the Royal Bath. During Monsoon, the ferry services to Alibaug are closed, making it accessible only via road.
15. Tapola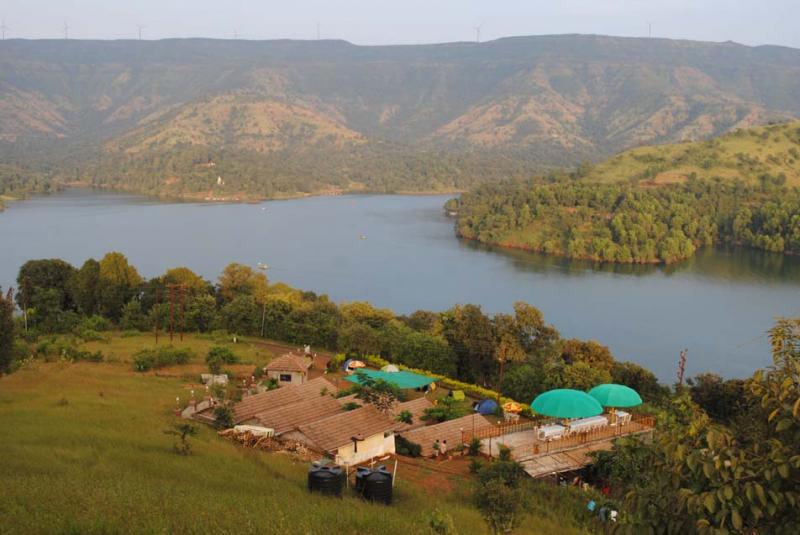 Tapola (source)
Widely known as Mini Kashmir, Tapola is a satellite village of Mahabaleshwar about 25 kms ahead of it. Because of its raw beauty and untouched natural landscape, it's a perfect place to visit near Mumbai in monsoon when the entire area is lush with greenery. One can get an amazing view of the Koyana Dam, which is one of the biggest dams in Maharashtra. Kas Pathar is a place one must visit while here as it turns into a breathtaking bed of flowers post monsoon. But the main attraction at Tapola is the Shivsagar Lake, which all water sports lovers will absolutely love. There are also many strawberry farms and nurseries of Gerberra around Tapola. So head over to this quiet, scenic place near Mumbai during the monsoon season and have a great time!